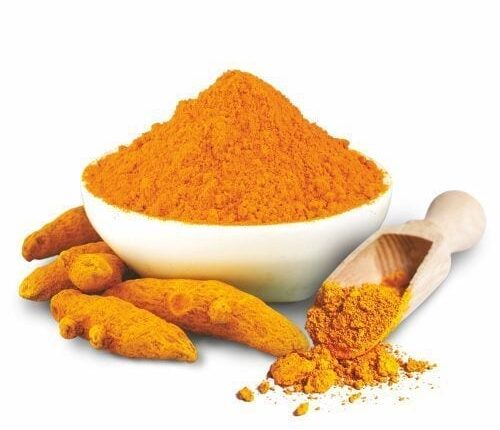 Turmeric Paste for Dogs
Spices and herbs have been used for many, many years and to this day are an important part of our healthy lives. And our lives include our dogs. Scroll down to read up on Turmeric Paste for Dogs Recipe and the benefits turmeric has.
Turmeric has some important benefits when added to a dog's diet, with the right amount taken into consideration. Let's take a look at the paste recipe and what it can do for your canine's health. Please note to always consult your vet before adding anything new to your dog's diet. 
Turmeric Paste for Dogs Recipe.
 1/2 cup organic Turmeric Powder
1 cup filtered Water
1/4 cup organic Coconut Oil
1 1/2 tsp freshly ground Black Pepper
Mix the turmeric with the water in a pan.
Stir the liquid on medium/low heat for 7 to 10 minutes.
Once thickened, add the oil and pepper. Stir well.
Take the pot off the stove and let the mixture cool.
Place the cooled paste in a jar with a lid and store in fridge.
Add 1/4 cup of the paste per 10 lbs of body weight to your dog's diet once a day. Should you feed TDN's raw dog food, add a little less then 1/4 cup of the paste since we already added a little turmeric to our recipes.
https://www.amazon.com/deal/cba39ec4/ref=as_li_ss_tl?&searchAlias=fashion&ref=dotd_lm&ref_=pe_837390_457606980&linkCode=ll2&tag=1000157185992-20&linkId=c3d3496f2636bcd4861b4f78b6d86e03&language=en_US
Turmeric Paste for Dogs Benefits
Anti-Inflammatory

Turmeric is one of the most natural anti-inflammatory. The curcumin in turmeric is a great antioxidant that helps neutralize inflammation in damaged joints, which is especially helpful for senior dogs.

Anti-Septic & Anti-Bacterial Agent

Turmeric mixed with raw honey makes a paste that can be used as a disinfectant for skin injuries. Raw honey has already high anti-bacterial components to it, and mixed with the anti-inflammatory properties of turmeric, it can be very useful to treat skin injuries. However, keep an eye on your dog since this kind of paste is a tasty treat as well. Apply right before going out for a walk to keep your dog from licking it off.

Turmeric and Cholesterol

This spice can also help with overall heart and liver health by lowering bad cholesterol (LDL).
Since turmeric functions as a blood thinner, it is very important that you check with your vet first to ensure the appropriate amount to give to your dog. The right amount of turmeric will be very beneficial for your dog but it is important that you'll give the right dosage.

Liver Health

Your pet's liver is a huge part of their overall health. It ensures that your dog's body is cleaned of toxins ingested from the environment and food. Turmeric Paste for Dogs helps support the liver with bile production that helps break down fat.

Anti-Cancer

The Scientists has conducted studies that show that the curcumin in turmeric can inhibit tumor growth and may even shrink existing tumors. This is not to say that turmeric is the cure for cancer but it's an important part of preventative medicine.

And there is more!

Turmeric Paste for Dogs Can help in the treatment of epilepsy
Might help relieve allergies
Can kill parasites
Turmeric Paste for Dogs Recipe Could help with stomach ailments, digestive disorders, and reducing gas and bloating
Does act as a binding agent and therefore great for treating diarrhea – just have lots of water available for your dog to drink
Turmeric Paste for Dogs Recipe rich in vitamins and minerals and high in fiber.
What to look out for when giving Turmeric to your dog
Turmeric has been used to stain clothing to make it that nice orange color! Look out for your dog possibly having a bit of an orange mustache after eating his turmeric paste.
Provide plenty of water for your dog to drink when feeding turmeric.
Always consults your dog's vet before feeding turmeric.