Here are vital dog prostate gland facts, read on with our in depth article, In the course of a normal vet checkup, your doctor may choose to examine the prostate gland of your dog. This will be done if your dog is experiencing any symptoms which suggest prostate trouble, or sometimes routinely in male mature dogs.
With all this talk about the prostate, in both human and your dog, you may be curious about what a prostate is, where you find it, and why it's the subject of so much discussion. Here are some of the dog prostate gland facts that you need to know.
Facts about Dog Prostate Glands #1 – Where is it?
The prostate gland lies within the pelvis below the rectum and just behind the bladder.
The gland surrounds the neck of the urinary bladder.
There are two lobes which are completely surrounded by an outer tissue layer.
In a forty pound dog, it can be about one to two inches in diameter. It contains small tubes, or ducts, which deposit the fluids that it produces into the urethra.
The size of a dog's prostate is determined by the hormone level of testosterone as well as any disease conditions.
Click to get more info on treatment ProsPet for Dogs prostate problems
Dog Prostate Gland Dog Fact #2 – What does it do?
This is classified as part of the sex system, but only in a supporting role. It is important to successful breeding; however, it does not directly produce sperm. The fluid that the prostate gland produces provides up to 30% of the volume of the sperm produced by two seminal vesicles, facts about dog prostate glands you may not know. This fluid is important in nourishing the sperm.
It also contains some antibacterial benefits which protect the sperm and decrease the likelihood of infection once they have entered the female. The prostate also provides the muscle to help push the semen through during ejaculation. Once in the female, the female's sex system continues to move the sperm through to its final destination.
Dog Prostate Glands Fact #3 – Does a neutered dog still have a prostate?
Very little. If the dog is neutered before puberty, there is very little prostatic tissue. The prostate gland doesn't develop with the absence of the hormone testosterone, produced in the testicles. If the dog is matured, then the gland will shrink to a fraction of its previous size once neutered. Within months, the supporting fluid will no longer be produced, see more  prostate gland dog facts.
Dog Prostate Glands Fact #4 – If my dog has trouble urinating, does he have cancer?
Prostate cancer is rare in dogs. Most often prostate troubles will be as a result of an infection or the natural aging of the process, both of which can be alleviated with natural remedies that work gently with your dogs system. There are also medical treatments that can be considered; however, side effects can be troubling, another  prostate gland dog facts you will know.
Dog Prostate Glands Fact #5 – What are some of the symptoms?
If your dog has trouble urinating or passing a stool, seems listless, has blood or pus on the penis, or walks differently, you will want to have him examined for an enlarged prostate, prostate gland dog facts like these could save your best friends life if you learn facts about dog prostate glands
Dog Prostate Problems
When your male, unneutered dog reaches his eighth year he has a significant chance, greater than 80% to develop dog prostate problems.
Rarely are dog prostate problems cancerous; however, they do present symptoms that prove to be uncomfortable and sometimes extremely painful for your pet.
Five common dog prostate problems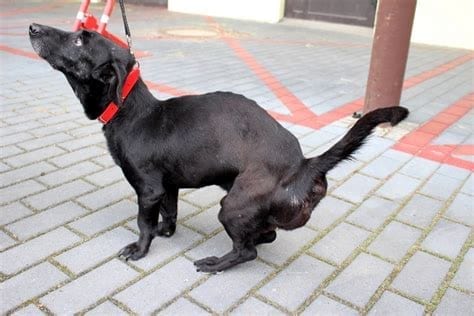 There are five common dog prostate problems that you can watch for. In addition to providing your pet the proper dietary care and supplementation, quickly diagnosing any changes in behavior will allow your dog to live a long, healthy life.
Click here to find more info on the natural treatment for Dogs prostate problems
1-You may notice that your dog is in pain, or seems to struggle when urinating, common dogs prostate problems.
When the prostate is swollen, it has the ability to greatly decrease the size of the urethra from which the urine flows. Like a kink in a hose, the flow is reduced or stopped and your animal will suffer.
-This same effect could occur with your dog's bowel movements.
2-You may notice that he is struggling. When the stool pushes through the large intestine through the rectum, there is simply not enough room if your pet is suffering from dog prostate problems.
-Although the consistency of his stool may be the same, or just slightly softer than normal, you may notice that the diameter is smaller than normal for your pet.
3-A third common problem is a change in your dog's gait. He may be trying to adjust his stride so that nothing presses up against the tender, swollen gland. He may walk with stiff rear legs and take very slow steps as if he were walking on eggs.
Click to get more info on the natural remedy for Dog prostate problems
He may be less willing to jump and less willing to breed. These activities become painful for your pet so they will try to avoid them, watch for other dogs prostate problems, before they become serious.
For owners that intend to breed their pets, if there is concern with your dog's prostate and you think that a tumor or cancer may develop, you should explore options of releasing and freezing the sperm for later use. That way, you get to enjoy and care for your pet's health and at the same time preserve the sperm for future generations.
5-Another dog prostate problem is infection.
when the infection causes a discharge from the penis which could present in the form of blood or pus.
This infection sign is a good candidate to explore a natural, homeopathic remedy to get you dog back to optimal health. Lifestyle changes in diet and exercise as well as any necessary supplementation can keep your dog healthy.
Peritonitis can develop if the bacteria from the prostate leak out and enter the abdominal cavity.
And in other cases tumors can form, benign and malignant.
Prevention is always the least expensive as well as the least invasive option.
Side effects of dog prostate problems can be avoided by maintaining proper prostate health for your pet. He is relying on you to provide love as well as the nutrition that he needs to live a long healthy life. The right products will allow you to do just that!